The Coalition on Adult Basic Education (COABE) represents the system of nearly 55,000 adult educators across the United States.
With more than 23,000 active members our organization continues to grow and is the largest professional organization for adult education. Our mission is to Inspire Educators so Adults Succeed and Communities Thrive. COABE exists to provide leadership, communication, professional development, and advocacy for adult education and literacy practitioners to advance quality services for all adult learners.
Shaketta D. Thomas has been elected to serve the Region 2 position, and is currently the Testing Director for the Virginia Department of Corrections (VADOC). Ms. Thomas holds a B.S. in accounting from Virginia State University, a M.Ed. in adult education from Regent University, and is presently pursuing a Ph.D. in educational psychology, also at Regent University. She is an active member of the Virginia Adult Association of Adult and Continuing Education where she serves as the Secretary on the Board. She is also a member of the Correctional Education Association and an active participant in the GEDTS® Corrections Forum and the Virginia Special Education Advisory Board.
Ms. Thomas is passionate about adult education and advocating for the needs of her students within correctional education. This advocacy extends beyond the inmates' period of incarceration and into their functional needs upon reentering into society.
She collaborates with adult education centers across the Commonwealth of Virginia to ensure that students continue to receive services upon release. As a trained Dialogue Practitioner, Ms. Thomas understands the importance of using one's voice to create healing and effective change. She is always looking to engage herself in the latest challenges of adult education with hopes of advancing the solutions to the individual and group difficulties that impact the field.

We Need YOUR Help to Ensure Adult Education is Funded

Congress will shortly reconvene in a "lame duck session" to determine spending levels for FY 2017. We need to do whatever we can to ensure that, at a minimum, Adult Education funding is not cut, in the best of possible worlds, gets the increase Congress assumed when it passed the Workforce Innovation and Opportunity Act.
The next years are going to be challenging – pressure to cut federal funding will grow, while demand for Adult Education services is likely to increase. We need to work together to protect and grow funding for Adult Education so that more under educated and/or disadvantaged adults are able function effectively and get family supporting jobs or access post-secondary education.
In March, the new Administration will unveil its first budget. We need to make sure that it adequately funds Adult Education. Then, in April the Congress will begin the annual Appropriations process. Congress also needs to gets the message that Adult Education is a key component to any growth agenda.
We are asking you to weigh in now with Members of the House and Senate Appropriations Committees who will be making these decisions in the weeks and months to come. Please click HERE for a letter that you can use to send to your Senators and Representatives.
We are convinced that if we continue to work together, we can make good on COABE's mission of advocating for more services, more funding, and less waiting.
If you are interested in helping out with this, please notify us by clicking HERE.
Message from COABE
Joint Statement of the National Council of State Directors of Adult Education (NCSDAE) and the Commission on Adult Basic Education (COABE):
A New Partnership to Grow Adult Education
Today we are pleased to announce that COABE and the National Council of State Directors of Adult Education are partnering in an advocacy effort to strengthen and grow Adult Education.
COABE is organized to advance national and international adult education and literacy opportunities for all persons. Its more than 15,000 members include adult educators, administrators, and mentors working to improve educational outcomes for adults.
The purpose of the NCSDAE is to attend to its members legislative needs and concerns, to work with other adult education organizations to exchange ideas and solve common problems, and to establish and maintain a nationwide communication network regarding national policy and legislative issues.
According to COABE President Tom Nash, "We all know that advocacy is important to the health and well-being of the field. Effective advocacy will ensure that legislators, funders, and the general community are aware of the important work that we are all undertaking each and every day to make our country a better place to live, grow, and prosper."
Beverly Smith, Chair of the Council of State Directors noted, "The Workforce Innovation and Opportunity Act (WIOA) places new responsibilities on Adult Educators that require additional resources. We are excited to be working with COABE to make our policy makers more aware of the key role that Adult Education plays in enhancing our nation's competitiveness and our citizens more active and engaged."
Polly Smith, COABE's Public Policy Chair and Sharon Bonney, COABE's Executive Director, summed up the joint agenda as "advocating for more funds, more classes, and an end to waiting lists." They said "Adult Education state grants have been reduced by more than 25%, in real dollars, since 2002. In the meantime, other nations are fast outperforming America in boosting the educational levels of their young and working age adults. According to PIAAC (OECD's Program for International Assessment of Adult Competencies), Americans lag behind the international average for basic skills in literacy and numeracy and "problem-solving in technology-rich environments (defined as "using digital technology, communication tools and networks to acquire and evaluate information, communicate with others and perform practical tasks"). Worse still, the U.S. is losing ground. The United States is the only free-market country where the current generation is less well educated than the previous one. We must reverse this trend if we are to successfully compete in the world economy of the 21st century."
Art Ellison, Co-Chair of the State Directors' Policy Committee noted "some 36 million working age Americans have low literacy skills, and more than 60 million can't perform simple math and we need to improve their skills so they can compete for meaningful employment with family sustaining wages, lead their families and contribute to their communities."
The 50 State Directors and COABE's 15,000 members across the nation are dedicated to working together to expand access to Adult Education, promote professional development, and support high quality research about the role that Adult education is playing, and can play, in strengthening our Nation's economy and civil society through civics education.
Both organizations agree that this new partnership will make our advocacy efforts more robust, focused and effective as we work together to better our members and our students.
For more information, please contact:
Dr. Lennox McLendon, Executive Director,
National Council of State Directors of Adult Education at
lmclendon@naepdc.org
New Adult Education and Middle Skill Jobs Fact Sheet
adult-education-and-middle-skill-jobs-fact-sheet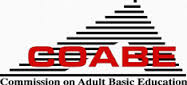 Your VAACE membership enrolls you in Commission On Adult Basic Education (COABE).
Check out the COABE website: http://www.coabe.org/ where you will find information on
WIOA
national awards, grants and scholarships
links to legislative activities