Poem Written by Adult Learner Brittany Price
as-i-grow-older

Adult Education Connection
By Karen Gent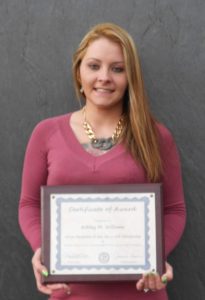 On March 9, 2016, Ashley Williams, a participant in PluggedInVA Precision Machining, was awarded the Ida J. Hill Scholarship in Richmond, Virginia. Ashley was recommended for the scholarship by Southwest Regional Adult Education.
The Ida J. Hill Scholarship Program was established by Altrusa International, Inc. of the Capital City of Virginia in October 1995 at its charter meeting. The scholarship recognizes the accomplishments of Dr. Hill in education, reading and other language arts, and specifically notes her work in teaching basic skills to adult illiterates. The scholarship is intended to assist women in need of basic skills to re-enter the workforce and advance their employment skills.
In her application letter, Ashley Williams stated, "I am a single mother who is currently enrolled in PluggedInVA Precision Machining at Southwest Virginia Community College in Richlands, Virginia working toward earning a career studies certificate. Before enrolling in this program, I was employed at various establishments earning meager wages with no chance for promotions or advancements. In order to succeed, I need to further my education and set attainable and realistic goals. I plan to continue college classes to earn a degree in advanced manufacturing."
Ashley was accompanied to the meeting in Richmond where she received her award by Kate Daly-Rolander, Workforce Instructional Specialist, and Kevin Franklin, Education Support Specialist, with the Virginia Adult Learning Resource Center.
Ashley completed the precision machining program on March 14, 2016 with a Career Studies Certificate, a Career Readiness Certificate, a Digital Literacy Certificate, and various industry certifications such as First Aid/CPR/AED, OSHA, and NIMS. While she was a full-time student in the program, Ashley attained employment as a residential support technician with Cumberland Mountain Community Services.
Ashley currently continues her work as a residential support technician, and in early April, she attained a new job as print shop operator at Southwest Virginia Community College (SWCC). Ashley will continue with her education at SWCC in the summer term. Ashley says, "Having the scholarship will help me to focus on my education, so that I won't have to focus all of my time on working. This scholarship will enable me to pay for tuition, books and any supplies needed for me to complete my degree."
The PluggedInVA program was a launching pad for Ashley. She is building career skills that will help her advance in the workforce and be able to earn family-sustaining wages. The Ida J. Hill Scholarship will provide the financial support needed for Ashley to take the next step toward workforce readiness.
Faces of VAACE
Ronnie
Johnette-and-Miriam
Panethong
Tyler
Elizabeth
Julie
Jacob-edit-II
Stephon
Robert
Diana
Randall
Katherine
Ban-Hui-Lin
Berta
Kyla