We're always looking for more success stories. Have a great local or regional success to share? Let us know!
VAACE Success Story Template-FINAL

Joe McFarland of Clintwood began working in the coal mining industry in 1994, just two years after dropping out of high school. Joe had taken the GED® test in the 90's but was unsuccessful in passing it. He commented, "It wasn't a priority and didn't matter to me then. I was young and didn't have the knowledge needed." With the encouragement of his wife and three children, Joe decided to tackle the GED® test again, but this time, he had help from two new friends, instructors Jerry Stanley and Brad Fleming.
Joe enrolled in a GED® test preparation class at the Dickenson Center for Education and Research in June 2017 while he was off work recovering from an injury. Joe said, "I knew the test had changed and that I couldn't pass it on my own. Jerry and Brad taught me more than I ever learned in school."
When asked how the class had benefited him, Joe replied, "The class really helped. The teachers took time and gave me individual instruction. I had never had algebra before, and I learned how to use math in everyday life." Joe said he most enjoyed that his instructors "were down to earth and interacted with the class. They wouldn't move on if you didn't understand something."
Joe spent most of his study time working on math and language arts. He was motivated when he passed his first of four tests, but it was after he passed the second test that he realized he could do it. His final subject to conquer was math. Joe took the math test in April 2018 but lacked six points to pass. He worked on his math skills a little longer, retook the test in May, and passed! After 11 months of consistent study, Joe earned his GED® certificate!
Joe commented, "I feel better about myself now that I have a high school-level credential." Joe is most appreciative of Jerry and Brad and remarked, "They are the best two teachers I've ever had. They did 50% of the work."
From an instructor's point of view, Jerry Stanley commented, "I have been most impressed with Joe's overall character as a human being. The fact that he has been able to maintain a full time job working underground as a coal miner and still pursue a GED® credential is no small feat. Many people seeking a GED® do so in the hopes of getting a higher paying job. Joe has stayed employed in a high paying industry, but seemed to feel that his lack of a high school diploma limited his options.
"Joe spent nearly a year working through the GED® test one subject at a time. His attendance is a good illustration of his tenacity. In his tenure as a student, I can count the times he missed class on one hand. Joe's commitment to getting a GED® is a fine example of what a student must do to be successful. Brad and I were very lucky to have him in our class. He was an excellent example for our other students, many of whom saw his success and applied his work ethic to their own studies.
"Joe is a strong family man, a dedicated husband, and a hard worker. These attributes directly led to his success in the classroom. As with most of our students, Brad and I both feel that the credit for that success lies with the student. As instructors, we feel that we are there to provide students with timely instruction and the encouragement necessary for those times when our students may hit an obstacle. If every student responded to obstacles with the positive mental attitude that Joe seems to naturally possess, teaching this class would be easy.
"Joe has returned to our class to pursue the NCRC (National Career Readiness Certificate). We are confident that he will earn that certificate in the very near future. Joe is excited about the choices he now has for his future by earning his GED®. Brad and I, along with the rest of our students who have gotten to know him over the past year, are excited for him. His success is not an accident or a product of luck. Joe has earned this credential through his own hard work, and that success could not happen to a better or more deserving person."
Joe McFarland recommends the class to others by saying, "If you can get to this class, I know they can help you get a GED®. If I could do it, anybody can."
______________________________________________________________________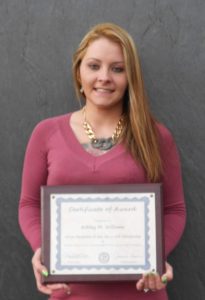 On March 9, 2016, Ashley Williams, a participant in PluggedInVA Precision Machining, was awarded the Ida J. Hill Scholarship in Richmond, Virginia. Ashley was recommended for the scholarship by Southwest Regional Adult Education.
The Ida J. Hill Scholarship Program was established by Altrusa International, Inc. of the Capital City of Virginia in October 1995 at its charter meeting. The scholarship recognizes the accomplishments of Dr. Hill in education, reading and other language arts, and specifically notes her work in teaching basic skills to adult illiterates. The scholarship is intended to assist women in need of basic skills to re-enter the workforce and advance their employment skills.
In her application letter, Ashley Williams stated, "I am a single mother who is currently enrolled in PluggedInVA Precision Machining at Southwest Virginia Community College in Richlands, Virginia working toward earning a career studies certificate. Before enrolling in this program, I was employed at various establishments earning meager wages with no chance for promotions or advancements. In order to succeed, I need to further my education and set attainable and realistic goals. I plan to continue college classes to earn a degree in advanced manufacturing."
Ashley was accompanied to the meeting in Richmond where she received her award by Kate Daly-Rolander, Workforce Instructional Specialist, and Kevin Franklin, Education Support Specialist, with the Virginia Adult Learning Resource Center.
Ashley completed the precision machining program on March 14, 2016 with a Career Studies Certificate, a Career Readiness Certificate, a Digital Literacy Certificate, and various industry certifications such as First Aid/CPR/AED, OSHA, and NIMS. While she was a full-time student in the program, Ashley attained employment as a residential support technician with Cumberland Mountain Community Services.
Ashley currently continues her work as a residential support technician, and in early April, she attained a new job as print shop operator at Southwest Virginia Community College (SWCC). Ashley will continue with her education at SWCC in the summer term. Ashley says, "Having the scholarship will help me to focus on my education, so that I won't have to focus all of my time on working. This scholarship will enable me to pay for tuition, books and any supplies needed for me to complete my degree."
The PluggedInVA program was a launching pad for Ashley. She is building career skills that will help her advance in the workforce and be able to earn family-sustaining wages. The Ida J. Hill Scholarship will provide the financial support needed for Ashley to take the next step toward workforce readiness.
Faces of VAACE
Ronnie
Johnette-and-Miriam
Panethong
Tyler
Elizabeth
Julie
Jacob-edit-II
Stephon
Robert
Diana
Randall
Katherine
Ban-Hui-Lin
Berta
Kyla