Educate and Elevate
Looking for ways to advocate for Adult Education? Click here for COABE's Educate and Elevate campaign.
Legislative Day 2017- VAACE Goes to Richmond
VAACE members and adult learners made their annual visit to the state legislature in January to speak with state legislators about the importance of adult education.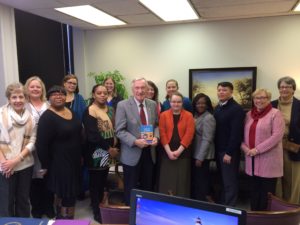 Delegate Ken Plum, former Director of Adult and Community Education in Fairfax and longtime supporter of Adult Education, meets with VAACE members and adult learners.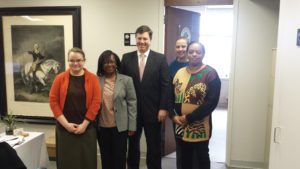 Staff and adult learners from Middle Peninsula Regional Adult Education meet with their legislator in Richmond on January 18, 2017.
Carol Coffey, VAACE Member and TJACE Regional Specialist, was accompanied by one of their program's adult learners, Sharon Eldridge.
"One of the best days of my life!" stated Ms. Eldridge, National External Diploma Program (NEDP) client at TJACE, after a  recent visit to the  VA General Assembly. "I was so happy to share my adult learning story with Senator Creigh Deeds and Delegate
David Toscano (pictured with Carol and Sharon).  They both seemed genuinely supportive and appreciative of my hard work towards my high school diploma.  They took the time to congratulate and take pictures with me.  I was thrilled!"
While at the capitol, Sharon and Carol also attended an Education Sub-Committee meeting and observed the Senate in session.  "To see law-making in action was fascinating.  I will never forget this extraordinary experience," noted Sharon.
TJACE offers both GED and NEDP high school credentialing programs for adults in Charlottesville City and  Albemarle, Fluvanna, Greene, Louisa and Nelson counties.
---
Highlighted Resource- Professional Video Production
Is your adult education program considering creating a video to highlight your learners, classes, and programmatic offerings? Who better than a former regional adult education program manager to create this outreach tool?
Contact Brooke Pizzetti of JayBee Productions at (774) 272-2892 or jrpizz@cox.net to discuss your video production needs. Check out the fantastic discounts for VAACE members!
Video Production Costs
| | | |
| --- | --- | --- |
| A la Carte | JayBee Productions | JayBee with VAACE discount |
| | | |
| Filming: $45-$250/hour/person | $75/hour/person | $37.50/hour/person |
| Filming: $250/hour first 2 hours, then $75/hour/person | | |
| Filming: $90/hour/person | | |
| Filming: $25-$75/hour/person | | |
| Script:   $60-$150/hour/marketer | Included | Included |
| Editing: $60-$175/hour/editor | $75/hour | $37.50/hour |
| Animation: $100-$300/hour/animator | Negotiable* | Negotiable* |
| Equipment: $25-$400/hour | Included | Included |
| Stock images: $3-$50/image | Negotiable* | At cost |
| Narration: $100-$400/2-3 minutes | $50/3 minutes | Included |
| Music: $30-1,000/composition | Negotiable* | At cost |
| Rendering and exporting: $30-$75/hour | $30/hour | $15/hour |
*Requires consideration of the complexity of the request or licensing costs
| | | |
| --- | --- | --- |
| Flat Rates (per finished minute) | JayBee Productions | JayBee with VAACE discount |
| Training video: $1,500-$3,000 per minute | Negotiable* | Negotiable* |
| Broadcast video: $7,000-10,000 per minute | $1,000/minute | $500/minute |
| Corporate video: $15,000-$100,000 per minute | | |
*Requires consideration of the complexity of the shoot and number of crew required
Skills equity policies are state level policies that expand equitable access to middle-skill training, credentials, and careers – particularly for those who have faced barriers to economic opportunity. National Skills Coalition's skills equity agenda includes policies on Job- Driven Financial Aid, SNAP E&T, Stackable Credentials, Alignment, Integrated Education and Training, and Temporary Assistance for Needy Families Employment and Training.
NSC has developed toolkits that provide resources (including model legislation) for policymakers and advocates to advance a skills equity agenda in their state. This effort includes forthcoming scans of all fifty states to ascertain whether states have the policies in place to expand access to skills.
Highlighted Resources:
New National Skills Coalition Fact Sheet
9-26-nsc-adulted-factsheet_final
 Message from COABE
Joint Statement of the National Council of State Directors of Adult Education (NCSDAE) and the Commission on Adult Basic Education (COABE):
A New Partnership to Grow Adult Education
Today we are pleased to announce that COABE and the National Council of State Directors of Adult Education are partnering in an advocacy effort to strengthen and grow Adult Education.
COABE is organized to advance national and international adult education and literacy opportunities for all persons. Its more than 15,000 members include adult educators, administrators, and mentors working to improve educational outcomes for adults.
The purpose of the NCSDAE is to attend to its members legislative needs and concerns, to work with other adult education organizations to exchange ideas and solve common problems, and to establish and maintain a nationwide communication network regarding national policy and legislative issues.
According to COABE President Tom Nash, "We all know that advocacy is important to the health and well-being of the field. Effective advocacy will ensure that legislators, funders, and the general community are aware of the important work that we are all undertaking each and every day to make our country a better place to live, grow, and prosper."
Beverly Smith, Chair of the Council of State Directors noted, "The Workforce Innovation and Opportunity Act (WIOA) places new responsibilities on Adult Educators that require additional resources. We are excited to be working with COABE to make our policy makers more aware of the key role that Adult Education plays in enhancing our nation's competitiveness and our citizens more active and engaged."
Polly Smith, COABE's Public Policy Chair and Sharon Bonney, COABE's Executive Director, summed up the joint agenda as "advocating for more funds, more classes, and an end to waiting lists." They said "Adult Education state grants have been reduced by more than 25%, in real dollars, since 2002. In the meantime, other nations are fast outperforming America in boosting the educational levels of their young and working age adults. According to PIAAC (OECD's Program for International Assessment of Adult Competencies), Americans lag behind the international average for basic skills in literacy and numeracy and "problem-solving in technology-rich environments (defined as "using digital technology, communication tools and networks to acquire and evaluate information, communicate with others and perform practical tasks"). Worse still, the U.S. is losing ground. The United States is the only free-market country where the current generation is less well educated than the previous one. We must reverse this trend if we are to successfully compete in the world economy of the 21st century."
Art Ellison, Co-Chair of the State Directors' Policy Committee noted "some 36 million working age Americans have low literacy skills, and more than 60 million can't perform simple math and we need to improve their skills so they can compete for meaningful employment with family sustaining wages, lead their families and contribute to their communities."
The 50 State Directors and COABE's 15,000 members across the nation are dedicated to working together to expand access to Adult Education, promote professional development, and support high quality research about the role that Adult education is playing, and can play, in strengthening our Nation's economy and civil society through civics education.
Both organizations agree that this new partnership will make our advocacy efforts more robust, focused and effective as we work together to better our members and our students.
For more information, please contact:
Dr. Lennox McLendon, Executive Director,
National Council of State Directors of Adult Education at
lmclendon@naepdc.org
VAACE members Susan Erno and Rebecca Scott shared Adult Education information with staffers from five Congressional offices on May 26. This was part of the first ever COABE Capitol Hill Day, an event created to push for full funding for WIOA Title II Adult Education.
Creating Pathways to Careers Highlights Legislation Impacting Adults in 2016 Sessionby Troilen Seward
The 2016 General Assembly was one that opened with a huge number of bills, but as session was winding down, many of them had disappeared! While every legislator wants his bill to pass, the reality is that every bill usually means someone, somewhere gets the impact. One of the important topics this session has been workforce and economic development. Bills related to that topic fared well, and that is indeed important to adult educators and their students.SB 245, introduced by Senator William "Bill" Stanley, presented a dilemma for adult educators. The bill requires each comprehensive community college to enter into agreements with the local school divisions it serves to facilitate dual enrollment of eligible students into a Career Pathways program preparing students to pass a high school equivalency examination offered by the local school division and a post-secondary credential, certification, or license attainment program offered by the comprehensive community college. This bill was heard in the Higher Education Subcommittees of both the House and the Senate. The genesis of the bill was the reality of adults in the Senator's area passing the GED but not being able to get a job where they could earn a living wage. Thus, the need for a post-secondary credential, certification or license. This is Adult Education's Plugged In Virginia (PIVA) model! There was no opposition to the bill. It passed out of sub-committee, full committee and both houses with no negative votes. The dilemma for Adult Education was insufficient information at this time about the federal Ability to Benefit guidance that could impact those in the program. Students who pass the AtB tests can be at a sixth grade level, certainly not a skill level for being considered college ready. Not wanting to speak in opposition, VAACE supported the bill but went on record as doing so with concerns about the possible skill level that could be considered adequate by AtB.Senator Frank Ruff introduced SB 576 and Delegate Kathy Byron introduced HB 66, which were very similar and subsequently conformed to be identical bills, that establish the New Economy Workforce Credential Grant Fund and Program, to be administered by the State Council of Higher Education for Virginia. The purpose of the fund is to disburse funds to certain public institutions of higher education and other educational institutions in the Commonwealth to provide grants to Virginia students who complete certain noncredit workforce training programs at the institution and subsequently attain a relevant noncredit workforce credential. The bill also includes provisions relating to the amount and terms of such grants, academic credit for the attainment of noncredit workforce credential, and reporting on completion of noncredit workforce credentials. The eligible institutions include the comprehensive community colleges, the Institute for Advanced Learning and Research, New College Institute, Richard Bland College, Roanoke Higher Education Center, Southern Virginia Higher Education Center or Southwest Virginia Higher Education Center. The noncredit workforce training program means a program at an eligible institution that leads to an occupation or a cluster of occupations in a high-demand field, which program may include the attainment of a noncredit workforce credential. It may include a program that receives Perkins funds. It shall not include certificates of completion. For example, a student who completes a nurse aide program would not be eligible, but when he passes the Board of Nursing Certified Nursing Aide exam, he would be.The purpose of the program is to (i) create and sustain a demand-driven supply of credentialed workers for high-demand occupations in the Commonwealth by addressing and closing the gap between the skills needed by the workers and the skills of the available workforce; (ii) expanding the affordability of workforce training and credentialing; and (iii) increasing the interest of current and future Virginia workers in technician, technologist, and trade-level positions to fill the available and emerging jobs in the Commonwealth that require less than a bachelor's degree but more than a high school diploma, The bill also provides details on the administration of the Fund and the Program.Subject to the availability of funds, any eligible student who enrolls in a noncredit workforce training program offered by an eligible institution pursuant to the Program may apply for and be awarded a grant to cover two-thirds of the cost of the training, provided that at the time of enrollment the eligible student pays one-third of the cost of the program and signs an agreement to complete the program or pay an additional one-third of the program cost in the event of non-completion. Upon presentation of satisfactory proof of completion of the noncredit workforce training program by the student, the Workforce Council shall reimburse the institution one-third of the cost of the program. Upon presentation of satisfactory proof of attainment of a noncredit workforce credential by the student, the Council shall reimburse the institution in the amount equal to one-third of the cost of the program. The Council shall not reimburse any eligible institution more than $3000 per completed noncredit workforce training program per eligible student.The bill spells out the specific items that each eligible institution must submit to the Council by January 1 of each year on noncredit workforce training program completion and noncredit workforce credential attainment by eligible students participating in the program.HB 991, introduced by Delegate Alphonso Lopez, was another bill aimed at providing training for those in need of job skills. This bill has already been signed by the Governor. It allows local departments of social services to place VIEW participants, who are in need of job skills and who would benefit from additional job skills training, in an apprenticeship program developed by the local department in accordance with requirements established by the Department of Social Services. As adult educators are aware, local social services departments may place VIEW participants in a program preparing them for a high school equivalency exam approved by the Board of Education or a career and technical education program targeted at skills required for particular employment opportunities. This bill now adds apprenticeships to those options.Delegate Chris Jones, Chair of House Appropriations, introduced a House Joint Resolution, No. 157, that directs the Joint Legislative Audit and Review Commission (JLARC) to review the Virginia Community College System. The resolution states that the Virginia Community College System has not been comprehensively reviewed since 1991. It also points out that general fund appropriations have increased ($53 million between FY2006-FY2015) while enrollment constitutes a smaller percentage of the Commonwealth's total undergraduate enrollment than a decade ago. JLARC is to (i) evaluate the system's success in providing Virginians with the education, training and credentials needed to succeed in the workforce; (ii) determine whether the mission is aligned with the Commonwealth's educational and workforce development priorities and complements the missions of the Commonwealth's secondary and four-year higher education systems, including through dual enrollment and transfer agreements; (iii) assess the system's success in making educational and training opportunities affordable; (iv) assess the spending and allocation of funds within the system; (v) assess how well the system's central office supports each institution; (vi) assess the adequacy of centralized data and information systems to measure institutional effectiveness and to support sound funding decisions; (vii) compare VCCS to the community college systems in other states; and (viii) review other issues and make recommendations as appropriate. This is indeed a comprehensive study and will take place during the next two years.If anyone has questions about any of the above-mentioned bills or the resolution, please feel free to contact Troilen Seward at troilen@aol.com. It has been a pleasure to work with VAACE during this session.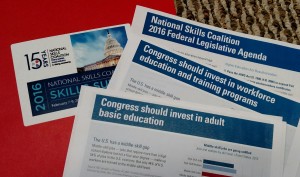 National Skills CoalitionAt the National Skills Coalition, VAACE was represented by Patty Donnelly, Nancy Faux, Shaketta Thomas and Rebecca Scott. On Tuesday, following the summit sessions on Sunday and Monday, they met with staff from Governor Terry McAuliff, Senator Mark Warner, Senator Tim Kaine and Congressman Bobby Scott in each of their DC offices. The federal legislative agenda that they discussed (http://www.nationalskillscoalition.org/resources/events/text/NSC-Legislative-Agenda.pdf) included doubling funds in the 2017 federal budget for Adult Education and ESL.
VAACE's Message to Policy MakersClick here to see the 2016 video and share this message in your region!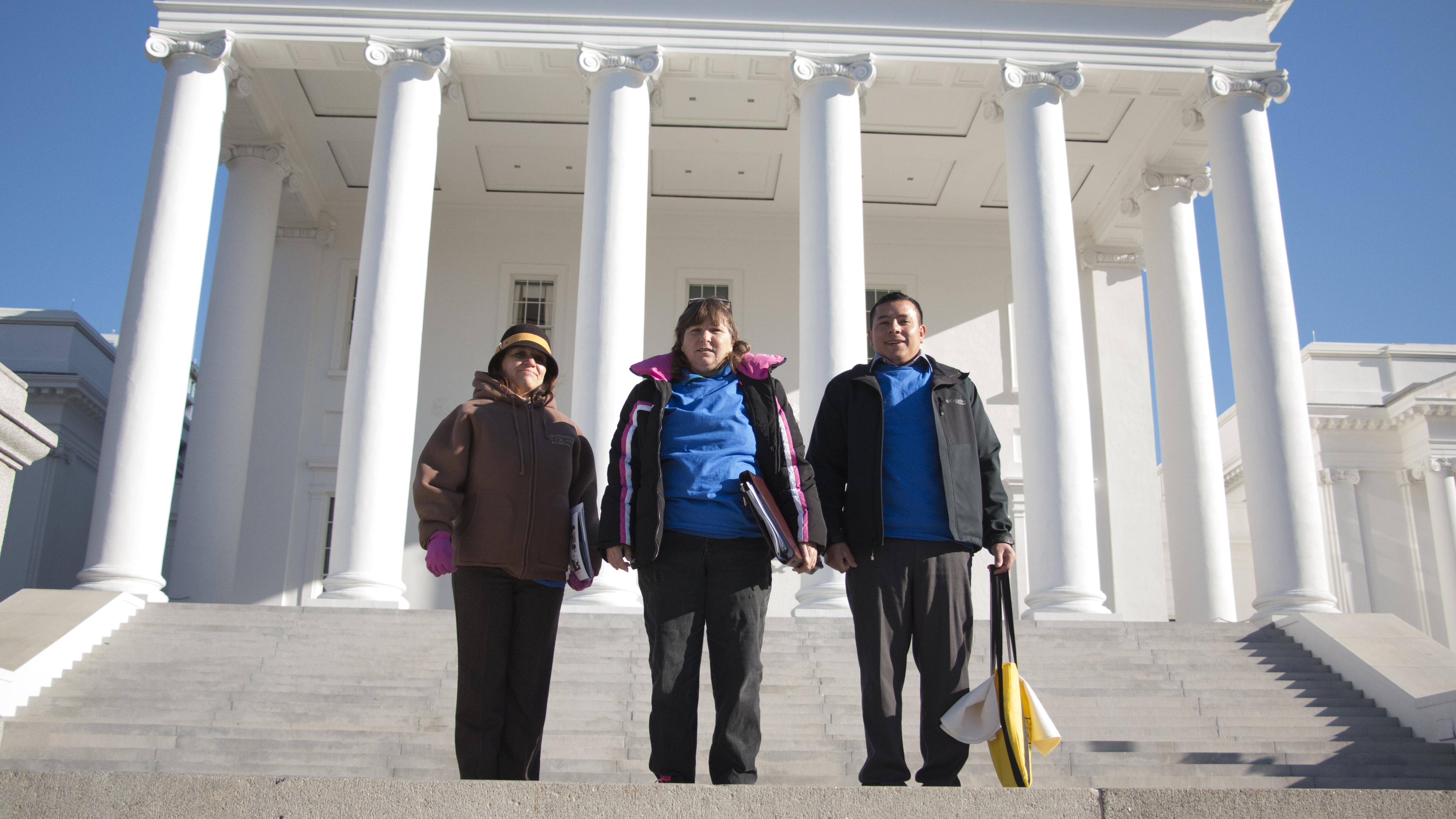 Learners from Regions 18 and 19 learned about the legislative process first-hand by joining VAACE members on Legislative Day!Learners from Middle Peninsula Regional Adult and Continuing Education (above) look out from the Capitol steps. Learners from Southside Programs for Adult Continuing Education pose for a photograph with Delegate Kenneth R. Plum.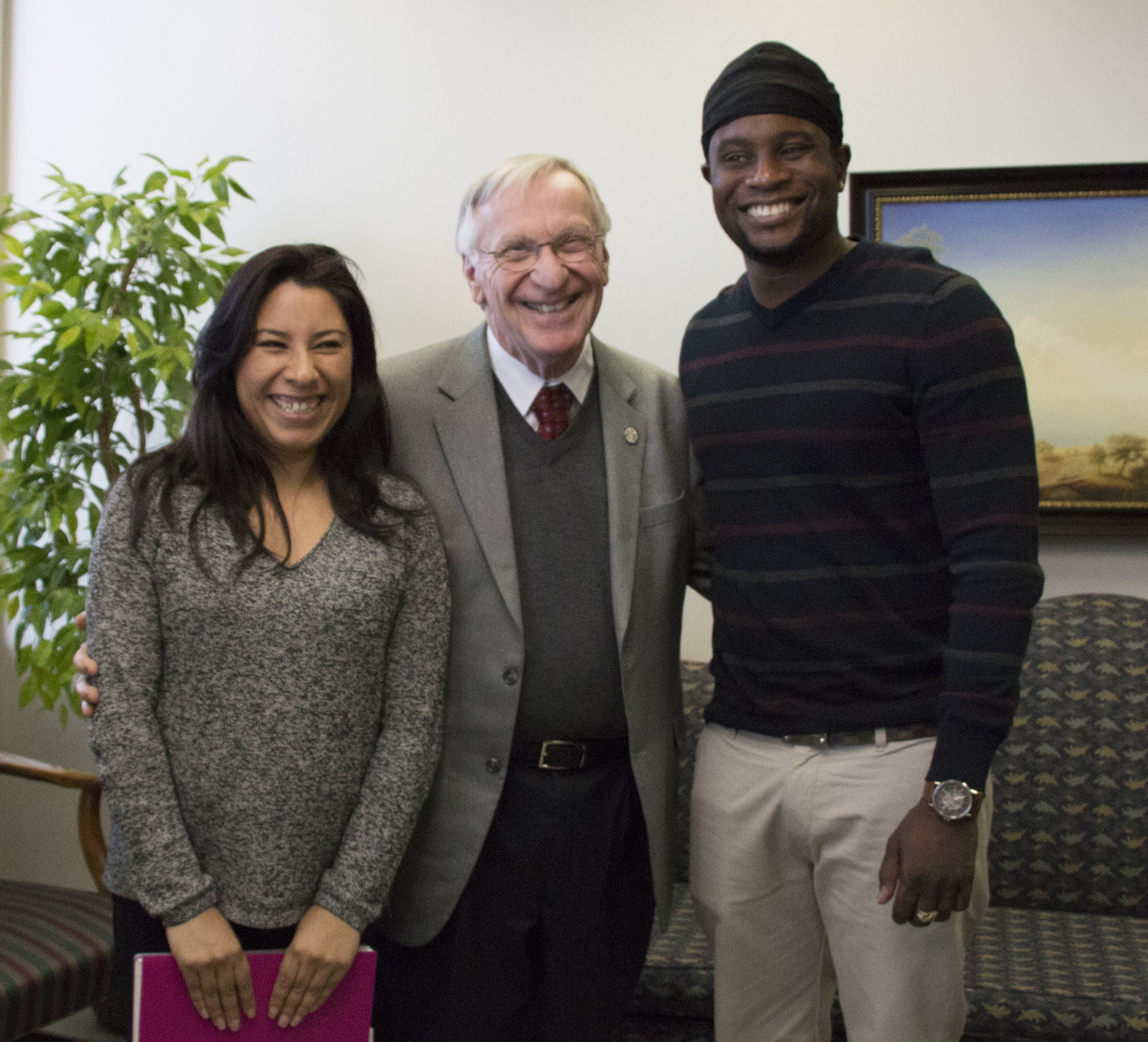 2016 Fact SheetVAACE-constituent-front-page-I-14
VAAACE-constituent-2-back-1-14

ResourcesClick here for the Virginia House of Delegates and Senate member listing.Click here for the Virginia Legislative Services website.Click here for the Commission on Adult Basic Education website.Click here for the National Skills Coalition website.
Click here for the National Council of State Directors of Adult Education website.
Click here for the CLASP website.
Click here for the Migration Policy Institute website.
Click here for the Virginia Board of Workforce Development website.