Welcome
The Virginia Association for Adult and Continuing Education is an association of adult education practitioners, including city and county adult programs, extension services, government, industry, health service, higher education, and non-profit organizations.
VAACE is dedicated to the professional interests and learning needs of its members. VAACE membership is more than dues paid; it represents an exchange of ideas and information, a forum for new developments in adult education and a means to elevate the profession of adult education.
AEFLA Week is September 26-October 1
New Announcement – Adult Education and Family Literacy Week Begins Today created by LINCS_Communications

Hello,
LINCS_Communications added the following Announcement:
Fact Sheet from COABE
adult-education-and-middle-skill-jobs-fact-sheet

Local Adult Education Providers
Whether you are an educator, an employer, or an agency, you can partner with Adult Education! Find your local adult education provider by clicking here.
2016 VAACE Conference
The 2016 VAACE Conference will be here before you know it! Send in your proposals for workshops, nominate an adult education professional for a VAACE Award, and sign up for an exhibit. Find the forms on the Conference and Awards pages or email vaaceinfo@gmail.org.
Book your room today! Click here.
A Special Success Story
Check out this new video featuring Ashley Williams, graduate of the PluggedIn VA Precision Machining program with Southwest Regional Adult Education. Read more about her achievements on the Success Stories page of our website. Congratulations, Ashley!
COABE Capitol Hill Day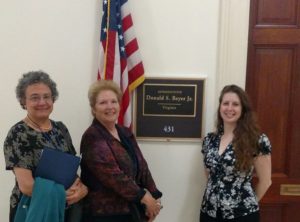 VAACE members Susan Erno and Rebecca Scott shared Adult Education information with staffers from five Congressional offices on May 26. This was part of the first ever COABE Capitol Hill Day, an event created to push for full funding for WIOA Title II Adult Education.
Shown with Kate Schisler, staff member in Congressman Don Beyer's office (VA-8), and Rob Hicks, staff member with Congressman Robert Hurt (VA-5).
An Historic Day for the VCCS – Credentials Plan Signed into Law
Dear Colleagues and Friends:
Today was an historic day for Virginia's Community Colleges.
The Commonwealth of Virginia will soon invest in high-demand workforce credentials just like it has been investing in our degree programs for the past 50 years. This moment is transformative for individual students seeking another path to success; for businesses that cannot find skilled and trained people to hire for open jobs today; and for our colleges whose workforce development efforts continue to evolve from the aspirational to the life-changing.
During a morning ceremony on the State Capitol's South Portico, Governor Terry McAuliffe signed into law first-in-the-nation pay for performance workforce credentials plan. The broad and bipartisan support this measure carried is reflected in the final votes that assured its General Assembly approval. The House of Delegates endorsed the credentials plan on a vote of 96-2. The State Senate passed it 39-0.
The list of people, institutions and organizations responsible for this moment is both and distinguished. The concern of leaving out someone important is the only thing keeping me from listing them all here. I've always believed that community colleges are at their best when they respond to community needs. From the 1,500 business leaders who attended our 22 town hall meetings, to the business organizations willing to endorse our proposal, to the elected leaders who engaged and acted on this issue, to the community college leaders and board members who made this tangible, that's what we've done here: respond to a community need.
The focus now turns to our community colleges.
Virginia's initial investment in this credentials plan is nearly $19 million. No question, the ability of our community colleges to deliver these high-demand credentials will determine funding in subsequent budgets.
This new funding formula will mean the most to individuals who have the most to gain. Instead of being asked to pay the entire cost upfront – as is today's practice – students pursuing these high-demand credentials will be asked to pay one-third the cost. The commonwealth will pay the college one-third of the cost when the student completes the program as well as the final one-third when the student earns the credential. Our community college workforce leaders are already engaged in the process of securing support from our State Board to endorse eligible high-demand credentials, a process you will soon hear more about.
Our current success in workforce development is a tribute to the hard work and imagination of our presidents and workforce leaders. This new funding formula, and initial investment, will position us to modernize and expand our training programs to more fully meet the needs of the people we serve. I don't believe there has ever been a more exciting time to be doing this work.
Virginia's Community Colleges turn 50 this year. Throughout 2016 we celebrate the progress and promise that highlights our first half-century. Moments like this – the creation of a workforce credentials plan, the pursuit of an ambitious six-year strategic plan – remind us that our best days lie ahead of us and our greatest achievements are yet to be realized. As Dana Hamel, the founding chancellor of the VCCS is fond of saying, "Today is a great day to be alive in the Commonwealth of Virginia."
Sincerely,
Glenn
Petersburg Chamber of Commerce
Troilen Seward is Recognized as an Outstanding Advocate
VAACE Advocate Troilen Seward received a national advocacy award recently from the National Association of School Psychologists! It was the Outstanding Advocate Award in recognition of her dedication to the rights, welfare, education, and mental health of children and youth. It was presented on Feb. 11, 2016, at their national convention in New Orleans.
Of this recognition, Troilen said, "I  am extremely honored to have received this award. The National Association of School Psychologists is an organization that has always put children first, and for that reason, I have the utmost respect for the work they do. I am so appreciative of being recognized by them.
VAACE congratulates Troilen and appreciates her hard work for worthy causes!
National Skills Coalition

At the National Skills Coalition, VAACE was represented by Patty Donnelly, Nancy Faux, Shaketta Thomas and Rebecca Scott. Find out more information and important links on the Advocacy page.
Legislative Day
VAACE members and adult education learners and instructors met with Virginia legislators on January 21, 2016. It was a very special day to share information and personal stories about adult education in the Commonwealth. Check out the message to policy makers at https://youtu.be/yJdrp3G7V4c and the advocacy page.